About Us
Over the years, our stores have pleased tens of thousands of customers, now we would be very pleased to serve you too…
Have a wonderful year,
Frank, Family and Staff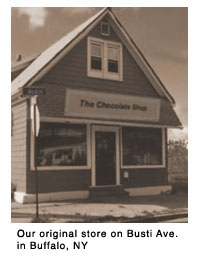 Our History - Established in 1950
When Frank Caruana was growing up on the west side of Buffalo, NY, he loved to walk down Jersey St. and enjoyed the delicious fragrances emanating from the Merkens Chocolate Company at Jersey and Seventh St.
Years later, the aroma became even more familiar; he started working at the Merkens Chocolate Co. and his boyhood belief was confirmed. The only thing better than a whiff of the marvelous Merkens chocolate was the taste!
In 1950, Frank started his first candy store, located on Busti Ave., in Buffalo, NY. From this 700 sq. ft. store, Frank started experimenting with different blends of chocolate and learning the art of hand dipping and hand molding. Every item was made individually by hand. Back then, Frank made only two types of molded items; one was the 18" Easter rabbit and the other was the 10" Easter egg. It wasn't long before the Busti Ave. store was too small for the growing business, so a move was made to our present location at 871 Niagara St. in Buffalo, NY. Along with the larger facility, came some new automated equipment. Our customers can now choose from a selection of molded items that number in the thousands.
Items that were once made one at a time by hand are now made in plastic magnetic racks, 25 at a time, from liquid chocolate to the finished product in about 7 minutes. Though a lot of things have changed over the years, the most important ones have stayed the same. We still use only the purest and most select ingredients and our candy is made daily to insure freshness.