Corporate Gifts
Personalized Chocolate Gifts for Clients & Employees
We can personalize your corporate gift by placing your name & logo on a custom made box or tin.
Our Custom Molding process allows you to have your name & logo molded into the custom item of your choice.
See our Custom Mold Example page to see how we make your mold and custom chocolate.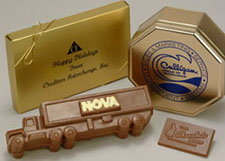 For your convenience we also offer gift wrapping & direct delivery to your clients. Contact us for more info.
Click here to request a Custom Quote.

Or call M-F, 9a-5p (716) 882-5055 to order or for more information.
Almost any of The Chocolate Shop's quality products can be personalized into unique and impressive gifts for your clients or employees. The Chocolate Shop & More specializes in custom-designed chocolate creations. We are eager to work with you and help to establish a lasting impression on your present and future customers. Your marketing ideas with our knowledge of fine chocolate enable us to produce promotions that get you noticed and remembered. Personalized boxes, custom tins, custom molded items made to your specifications are sure to leave a sweet and lasting impression. Call us today to discuss how we can develop something for you.
Also see Custom Molding for other great corporate gift ideas.