Custom Chocolate Business Cards
Custom chocolate bars about the size of a business card, that are custom molded with your company name, logo, holiday greeting or web address.
as low as
$178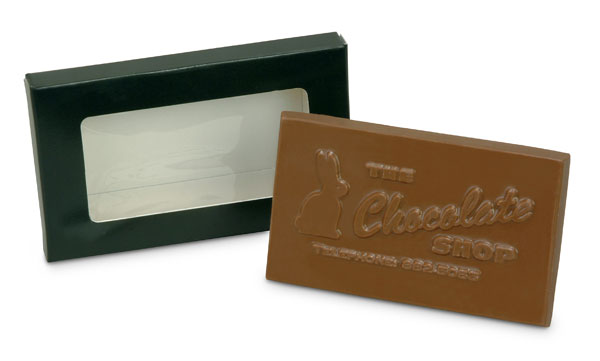 Don't risk ordering chocolate from some advertising pen novelty company, where you don't even know who's making it.
Get your custom chocolate from The Chocolate Shop. We've been making delicious custom chocolate for over 65 years!
Get the Chocolate Shop advantage:
Fresh made for your order!
Delicious milk chocolate bar (3-1/2" x 2")
Your company name, logo, message custom molded in bar
Made in USA (Buffalo, NY)
Includes gift box with clear window (5 box colors)
As low as $178 each
Looking for a larger or special shaped chocolate bar?
We can make almost any shape or size. See our Chocolate Bars and Custom Molded Chocolate pages for more information, or Contact us for a quote for your custom chocolate bar.
Order Now!
Click the Buy Now button below for the quantity you would like to order. Note you can use your credit card or your PayPal account when ordering.
After you've placed your order, just send us your logo/artwork through email to artwork@chocolateshopandmore.com, or through postal mail (see our contact page).
See our art specification page for artwork size and file type information.
Order 250 custom chocolate business cards for only $178* each.
*Plus $150 one-time mold fee.
Order 125 custom chocolate business cards for only $210* each.
*Plus $150 one-time mold fee.
Order 75 custom chocolate business cards for only $295* each.
*Plus $150 one-time mold fee.
The Chocolate Shop will make your chocolate business cards and ship them to you usually within 10-20 days (plus shipping time).
Prices are plus shipping. Most orders shipped UPS. Rate determined by your location. We will contact and confirm shipping price before continuing order.