Custom Molded Chocolate Bars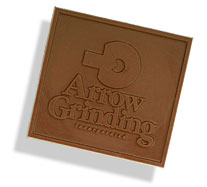 Your company name and logo molded into a bar of any size, from a regular business card size to a bar as large as you desire.
Custom Molded Bars can be blended with the garnish of you choice including peanuts, raisins, crisp rice, or almost anything!
Your own personalized bars can be made in milk, white and dark chocolate.
Click here to request a Custom Quote. Or call (716) 882-5055 M-F, 9a-5p EST.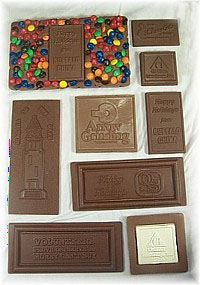 Custom Molded Bars have so many uses including holiday favors, seminar promotions, trade show giveaways, employee gifts, fund raising and more!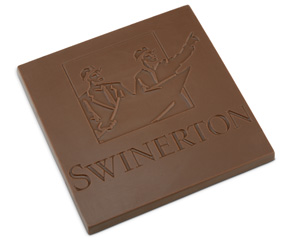 We also do custom labels and wrappers for your chocolate bars!
Candy bar labels made to your specifications. Include your logo, photo or any other personalized info on your custom bar label.
Custom Bars Make Great Gift Sets!

Chocolate bars can be surrounded by our quality chocolates and packaged in attractive gift box.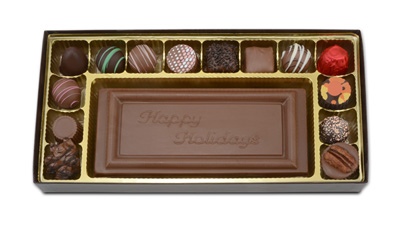 See our Small & Large Custom Chocolate Bar Gift Sets below.
We Make Extra Large Chocolate Bars Too!
We can also make extra large bars for your special promotions. Some recent promotional chocolate bars have been as large as 12" x 12" weighing over 2 lbs. each. Bars can be creatively packaged to enhance your promotional gift.
Click here to request a Custom Quote.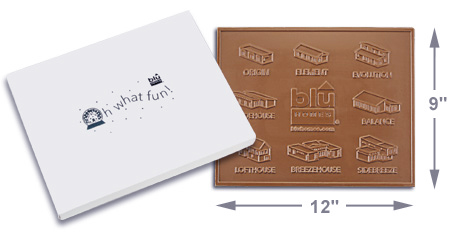 Click for more larger image and more info.
---
Small Square Chocolate Bar & Personalized Gift Box Set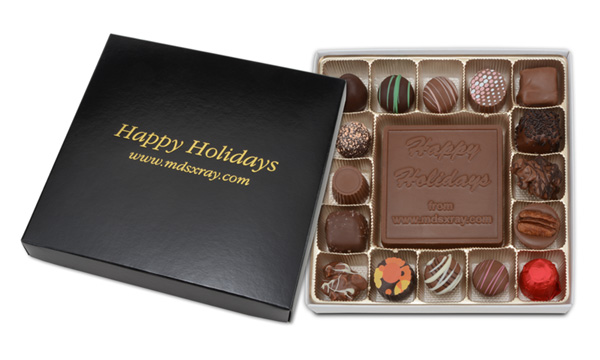 Custom Chocolate Bar & Personalized Box Package Includes:
Fresh made for your order!
Custom made delicious (3-3/4" x 3-3/4") 4 oz* milk chocolate bars molded with your logo/message
Your custom bar is also surrounded with 7-8 oz* of our finest chocolates
Your logo and message gold foil stamped on your choice color box lids (8" x 8")
Made in USA (Buffalo, NY)
---
Large Chocolate Bar Gift Set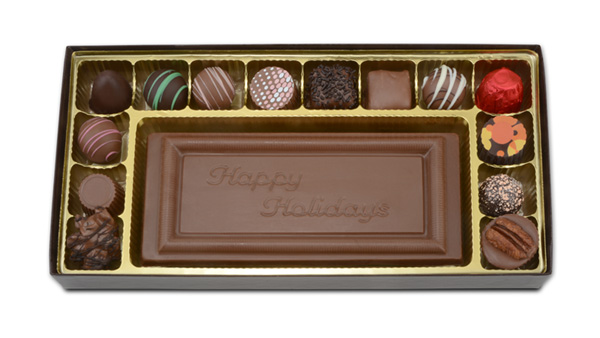 Our Custom Large Chocolate Bar Package Includes:
Fresh made for your order!
Custom made delicious large (8" x 3-1/2") 5 oz* milk chocolate bars molded with your logo/message
Your custom bar is also surrounded with 7-8 oz* of our finest chocolates
And each bar includes a beautiful gift package (12" x 6") with clear top and gold band
Made in USA (Buffalo, NY)