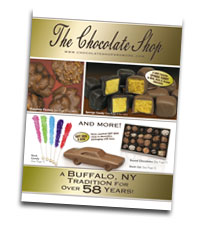 For over 50 years, we at The Chocolate Shop, have worked with many schools & organizations using our own unique plans to carry out successful fund raisers. We have developed, through experience, 3 fund raising sales plans that generate superior profits with little effort.
Our new brochures offers you a true combination of quality chocolates at reasonable prices, and we will work with you, supplying introduction letters, order forms and over 50 years of experience.
All your orders are boxed individually per participant or student. A box label will include all the participants pertinent information such as a Homeroom #, quantity etc.
We come to you! At the time of delivery our representatives will unload the truck(s) and move the chocolate into your building for you. All items are individually bagged and boxed to prevent any damage during delivery.
After the original delivery, an additional delivery will be made to replace any missing or damaged items if needed.
Contact us for more information or fund raising programs.